Take 5 Short Minutes To Read Through This Page And…
DISCOVER HOW –

FOR LESS THAN THE COST OF AN AVERAGE PERSONAL TRAINER –

 YOU CAN GET BEST-SELLING AUTHOR AND LEADING FITNESS COACH, SEAN NALEWANYJ, TO TAKE YOU BY THE HAND AND PERSONALLY GUIDE YOU,

1-ON-1

,

STEP-BY-STEP

, TO THE BODY OF YOUR DREAMS.

Introducing…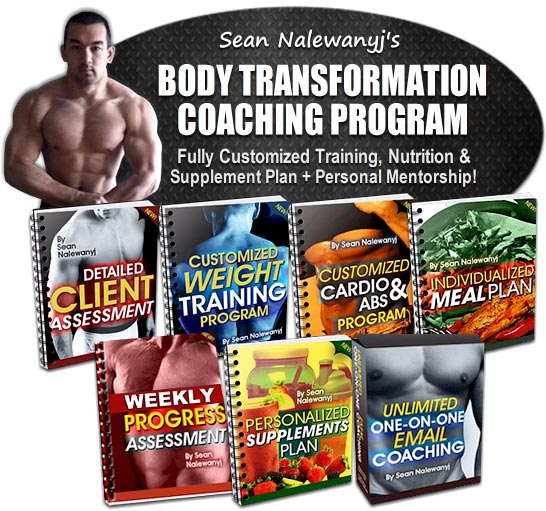 Get An "Unfair Advantage" And Begin Building Muscle & Losing Fat In A Fraction Of The Time It Takes Most People –

Without

Restrictive Dieting, Marathon Workout Sessions Or Expensive Supplements.
From: Sean Nalewanyj
Date: Saturday, April 18
Dear Future Hardbody,
I know you've done it…
You've checked out the person next to you at the gym and thought… "I'll never have a body that good… I'm just not built like that."
Yeah, it's true… some people really do have "lucky genes".
They can build muscle and burn fat without training nearly as hard as you do or paying any real attention to what they eat.
But, if you aren't one of the fortunate few winners of the "genes lottery," there's something you need to know…
I'm not either…
But I didn't let that stop me from building the kind of body I used to envy.
See, I was weak and out of shape my whole life…
Yet, this is what I was able to achieve just a few years out of High School…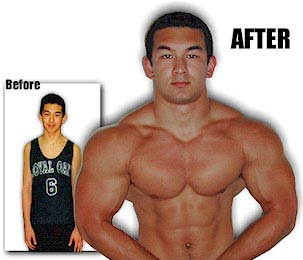 But the truth is this…
If I knew back then what I know NOW, I could have done it even faster.
And that's exactly what I'm going to do for you when you become a member of my premium web-based coaching program here today.
There Are 3 Major Reasons Why 95% Of People FAIL To Reach Their Goals.
#1 – Information Overload.
The Internet makes it easy for any Joe Schmo to jump online and post anything they please… but the vast majority of these people are NOT legitimate fitness experts and are NOT giving advice based on real science.
With the endless amount of conflicting, misleading advice found all over the web on blogs, YouTube channels and forums these days, most people trying to build muscle and lose fat have been left totally confused and with very few places to turn to for proper guidance.
At best, these ineffective techniques leave you with modest results while causing you to waste a ton of unnecessary time, effort and money in the process… and at worst, they leave you with no results at all, possibly even at the expense of your health and safety.
#2 – Lack Of Commitment.
Casually strolling into the gym a few days a week and loosely following some basic nutrition guidelines is NOT going to get you the real, head-turning results that you're after.
No matter what anyone tells you, achieving a truly impressive physique requires a lot of hard work, patience and dedication, and failing to make a 100% commitment to your program right from the start is a quick formula for failure.
There's NO better way to maximize your chances for success than by making a concrete investment in your plan and working one-on-one with a knowledgeable coach who you're accountable to each week.
#3 – Generic Programming.
No single "cookie cutter" program is right for everyone, and no single program is right for you as you advance through various stages of fitness.
Every single person who is serious about progressing in the most efficient way possible requires their own specific weight training, cardio, nutrition and supplementation protocol based on their unique goals, body type and lifestyle.
Following a random pre-made muscle building or fat loss plan that doesn't teach you how to properly customize each component to your own individual needs will likely just leave you spinning your wheels and getting absolutely nowhere.
My Proven "4-Step Coaching System" Is The

Fastest

And Most

Direct

Path To Your Ideal Body.
Let's be clear here…
We're NOT talking about some lame "one size fits all" diet chart or generic training plan like you've seen before.
If any of those programs really worked, you wouldn't be here right now.
What we're talking about is a complete mentorship program where we work together, one-on-one, to create a detailed body transformation plan that is perfectly suited to your needs.
Here's how the process works once you sign up…
#1 – I Carefully Assess Your Individual Needs.
After you submit your detailed 30-question client assessment form, I'll personally analyze your unique situation based on my 14 years of training, research and coaching experience in the fitness field to determine the very best plan of attack for your program.
These are just some of the individual factors we'll take into account when you get started…
Specific goals
Gender
Body type
Body fat levels
Lean body mass
Equipment availability
Food Preferences
Work Schedule
Lifestyle
Training history
Existing injuries
Current fitness level
Activity level
Financial situation
Medical issues
Recent dietary habits
Recent exercise habits
Pyschological factors
Strengths
Weaknesses



#2 – I Create A Fitness Program Perfectly Tailored To Your Needs.
Whether you're male or female… younger or more mature… and whether you want to lose 50 pounds of fat… put on 20 pounds of lean muscle… or just improve your overall health and fitness…
I will carefully assess your unique goals, physiology and lifestyle, and map out a detailed program that is perfectly suited to you, and only you.
Each workout is YOUR workout. Every time you enter the gym, you'll know exactly what to do and how to do it in order to produce the very best results. All of the guesswork will be completely removed for you, and all you'll have to do is follow the exact prescription of gym days, exercises, sets, reps and rest periods that I hand you.
Each diet is YOUR diet. Proper nutrition is easily the most challenging and confusing aspect of any fitness program, but for you, it'll be a breeze. Every single day you'll know your exact calorie and macronutrient targets, which specific food sources to eat and how much, along with useful tips and advice to make the process as simple and streamlined for you as possibe.
Each supplement plan is YOUR supplement plan. I'll cut straight through all the hype and B.S and show you exactly which supplements are worth investing in and which ones to avoid. Your individual supplement plan will be configured based on your specific fitness goals and budget and will ensure that you never spend another dime on a worthless pill or powder ever again.
And most importanty, you still get to live YOUR life. Not only will I help you get into the very best shape you've ever been in, but I'll also show you how to do it without having to spend endless hours in the gym … without having to deprive yourself of your favorite foods… and without having to revolve your entire life around your fitness plan, or shy away from parties, dates, holidays or other social events. After all, there's no point in having the body of your dreams if you aren't enjoying yourself and having fun at the same time.
#3 – I Personally Guide You, One-On-One, Every Step Of The Way.
Along with fully customizing your training, nutrition and supplementation, I'll also become your coach, mentor and friend.
I'll be there around the clock to personally motivate you, hold you accountable, and address every single question and concern that comes up along the way.
Your rate of success will exponentially increase, since you'll always have me by your side and willnever be left confused or wondering about anything.
#4 – I Carefully Monitor Your Progress And Modify Your Program As You Go.
The specific approach that delivers the best results for you right now might not be the best approach for you next week, next month or even next year.
As you advance through various stages of progress, I will continually analyze, tweak and modify your approach to ensure that you're always obtaining the best possible results from your efforts.
We'll look at your changes in body weight, body fat, muscle mass, strength, energy, appetite, motivation and more and make the necessary adjustments to keep you on the fastest track towards your goals.
Whether your weight training or cardio plan needs to be modified… your calories, macronutrients or daily meal structure re-configured… your supplement plan re-adjusted… or anything else changed that would help you see better results in less time… I'll always be there to make the necessary changes for you.
4 Reasons Why Hiring Me As Your Coach Will Be The

Best

 Investment You EVER Make For Your Body And Your Health…
Reason #1: High-End Expertise At Your Fingertips.
Over the past 14 years, I've been passionately studying the detailed science behind proper training, nutrition, supplementation, fitness psychology and more, and have made a name for myself by providing real, honest, no B.S information that people can trust.
Search my name on Google and you'll find my articles, videos, books and newsletters plastered on many of the top fitness sites around the web… along with endless positive feedback from my readers and clients who have completely transformed their bodies and lives as a result of following my advice.
To put it simply, when you become a student of mine, you'll be working one-on-one with a legitimate fitness expert with a strong reputation for producing serious results, and who truly cares about your long term success.
If you think the "average joe" personal trainer at your local gym who is charging $600 a month to have you do jumping jacks and burpees while he plays on his iPhone (and who probably got his certification over a couple of weekend courses) can make these same claims, think again.
What would it mean for you to have this kind of muscle building and fat burning expertise at your disposal, 24 hours a day, 7 days a week?
Reason #2: I've Been In Your Shoes
Whether your goal is to build muscle, burn off excess body fat, gain strength or just live a healthier life, I understand the situation you're in.
I've been there before.
That means that I have an intimate understanding of the mental and physical hurdles that typically prevent people from achieving their muscle building and fat loss goals… and it means that I can provide you with the most effective tips and tricks available for blasting past these obstacles and achieving real results in record time, just like I did.
Reason #3: Accountability
Becoming a one-on-one coaching student serves as a huge means of motivation for you.
It's far easier to skip a workout or fall off the wagon with your diet when you know that no one is watching…
But when you know that your coach is observing your progress every step of the way and that you also have a financial investment at stake, you'll be far more motivated and likely to succeed over the long term.
Reason #4:

Results

,

Results

,

Results

.
At the end of the day, that's all this really comes down to.
It's about getting you from where you are now, to where you want to be, in the fastest, most efficient and most streamlined way possible.
And that's exactly what my coaching program delivers: real, significant, measurable results, week after week after week.
That's why I have over 15,000 satisfied customers in over 60 different countries worldwide, and it's also why I receive emails every single day from people just like you, thanking me for the amazing results they've achieved.
Combine my fitness knowledge and coaching experience with your willingess to commit to the program, and that ultimate dream body you're after is virtually a guarantee.
"What Exactly Do I Get When I Become One Of Your Coaching Students?"

You'll receive complete access to

every single tool

you need to build the perfect body in the fastest amount of time…