HIGH PROTEIN BANANA BREAD "DESSERT SMOOTHIE"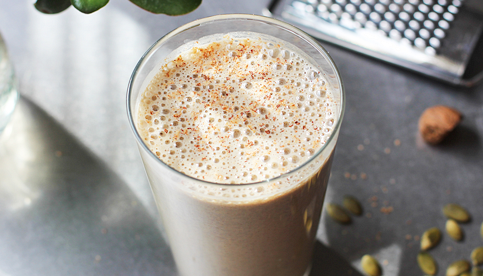 Incorporating smoothies into your muscle building or fat burning diet not only helps to streamline your daily eating plan for improved convenience, but it's also a great way to satisfy your cravings for something sweet.
This "dessert inspired" banana bread smoothie is a great-tasting option delivering 34 grams of protein, 41 grams of carbs and 13 grams of fat from a high quality, nutrient dense blend of ingredients.

Basic Information
Preparation Time: 5 minutes

Servings: 1

Ingredients
1/2 cup (115g) low-fat cottage cheese
1/2 cup vanilla almond milk
1/2 (120g) medium banana (fresh or frozen)
1 scoop vanilla protein powder
2 tablespoons chopped walnuts
1/2 teaspoon vanilla extract
1 teaspoon cinnamon
1/2 teaspoon nutmeg

Instructions
1. Blend all the ingredients together until smooth. Enjoy immediately!

Nutrition Facts Per Bar
Calories: 412
Protein: 35g
Carbs: 41g
Fat: 13g

If you found this article helpful, make sure to sign up for your FREE custom fitness plan below...