DELICIOUS "APPLE PIE" BODYBUILDING BREAKFAST SHAKE RECIPE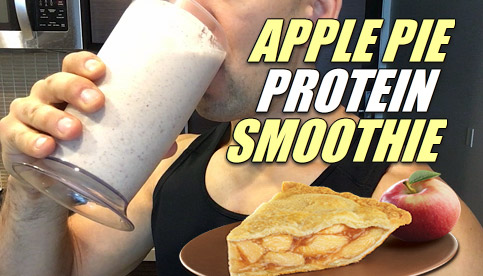 Interested in a thick, creamy high protein smoothie that tastes like a slice of apple pie?
I've been mixing up this bodybuilding breakfast shake every morning over the past week and am absolutely loving it, as it's easy to make, macro-friendly and tastes awesome as well.
Here's the ingredient breakdown…
Apple Pie Bodybuilding Breakfast Shake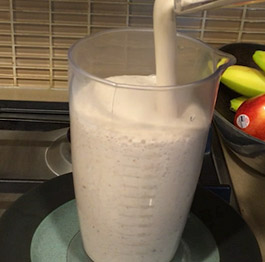 Ingredients
1 scoop vanilla whey protein powder (30g)
5/6 cup unsweetened vanilla almond milk (200ml)
1 small apple (125g)
1/4 cup oats (25g)
3 pitted dates (25g)
1 tsp. of cinnamon
5 ice cubes
Optional: 1 tbsp. natural peanut butter (15g)
A few notes…
You can find my top 3 recommended whey protein brands here.
If you'd prefer regular milk in place of the almond milk that's fine.
If you have any issues blending up the oats, you can "pre-blend" them first in a blender on their own. This will turn them into a fine powder, and you can then mix them into the actual shake. However, the amount included in this recipe is fairly small so it shouldn't be an issue unless you decide to use more.
Depending on your individual fitness goals and calorie intake, you can increase or decrease the quantities of the ingredients to suit your preference.
Nutrition Profile
Here's the nutritional breakdown based on the recipe above excluding the peanut butter…
Calories: 410
Protein: 30g
Carbs: 59g
Fats: 6g
I've found myself waking up every morning really looking forward to this shake, so I hope you enjoy it as well.
Give it a try and see what you think!
If you found this post helpful, make sure to get your personalized training, nutrition and supplement plans using my free interactive video presentation below…
If you found this article helpful, make sure to sign up for your FREE custom fitness plan below...