CHICKEN AVOCADO QUESADILLA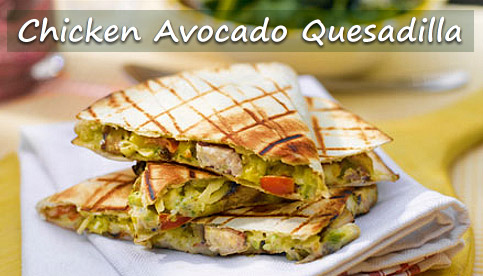 Given that the word "quesadilla" comes from the Spanish term for cheese ("queso") you can't make the filling without it. But that doesn't mean you can't turn it into a healthy fitness-friendly meal by adding in other ingredients like lean protein, veggies and healthy fats.
This chicken avocado quesadilla is full of flavor, easy to make and macro-friendly all at the same time. Have it for lunch or dinner, either on its own or served alongside another carb source.

Ingredients
– 6 oz (170g) chicken, grilled and diced
– 1 large whole wheat tortilla
– 1/4 avocado (50g), sliced thin
– 1 oz (30g) shredded fat-free cheddar cheese
– 1/4 cup each, sliced: red pepper (25g), green pepper (25g), onion (30g)
– 1/4 packet low sodium taco seasoning
– 1 tsp olive oil
– 2 tbsp. salsa

Instructions
1. Coat a large skillet with cooking spray and place on medium-high heat. Add the olive oil and let it heat up for about 20 seconds.
2. Throw in the peppers and onions and cook for 8 minutes, stirring frequently, until browned and tender. Add in the diced chicken and seasoning mix and stir well.
3. Remove the skillet from the heat and pour the chicken mixture into a bowl. Wipe the skillet clean and re-coat with some cooking spray.
4. Place the tortilla into the skillet and place the chicken mixture on top. Add the salsa and cheese on top.
5. Fold the tortilla in half and let it cook for about 5 minutes on each side until brown and crispy.
6. Cut into 3-4 pieces and enjoy!

Nutrition Facts
Calories: 511
Protein: 50g
Carbs: 35g
Fat: 19g

If you found this article helpful, make sure to sign up for your FREE custom fitness plan below...