HEALTHY BLT STEAK SALAD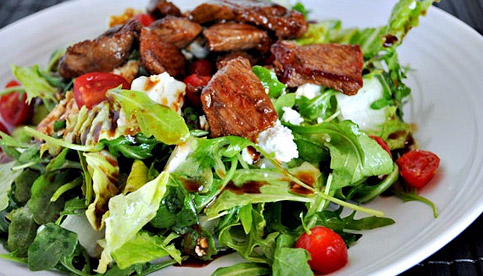 Chicken breast is great, but no doubt it can get boring after a while. This healthy BLT steak salad is an awesome summer-time option to get some high protein, great-tasting lean red meat into your diet while still keeping the calorie content under control.
This salad works great for lunch or dinner and gives you 20 grams of protein along with only 3 grams of carbs and 9 grams of fat.

Basic Information
Preparation Time: 10 minutes

Cook Time: 10 minutes
Servings: 6

Ingredients
One 1-pound flank steak, trimmed
3/4 teaspoon salt
1/4 teaspoon black pepper
1 tablespoon extra-virgin olive oil
1 tablespoon cider vinegar
1 teaspoon Dijon mustard
6 cups (275g) shredded romaine lettuce
1 cup (50g) halved cherry tomatoes
1 small red onion (90g) finely chopped
1/4 cup (30g) crumbled blue cheese
2 slices (30g) crisp-cooked turkey bacon crumbled

Instructions
1. Sprinkle the steak with 1/2 teaspoon of the salt and the pepper.
2. Spray a nonstick grill pan with cooking spray and set over medium-high heat. Add the steak and cook 5 minutes on each side for medium-rare.
3. Transfer the steak to a cutting board and let rest 5 minutes. Cut the steak on an angle against the grain into 12 slices.
3. Meanwhile, whisk together the oil, vinegar, mustard and remaining 1/4 teaspoon salt in a large bowl. Add the lettuce, tomatoes and onions and toss to coat well.
4. Transfer the salad to a platter. Top with the steak slices and sprinkle with the blue cheese and bacon. Serve immediately.

Nutrition Facts Per Serving
Calories: 181
Protein: 20g
Carbs: 3g
Fat: 9g

If you found this article helpful, make sure to sign up for your FREE custom fitness plan below...