DELICIOUS HIGH PROTEIN PANCAKES RECIPE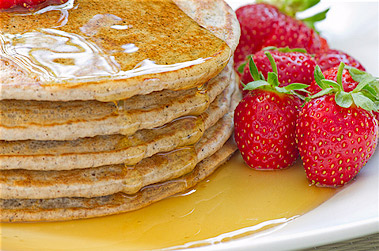 If you're looking for a tasty, easy-to-prepare breakfast meal for your muscle building or fat burning diet plan, give this high protein pancakes recipe a try.
It provides a great source of high quality protein, nutritionally dense carbs and healthy fats to kick-start your day with something a little more exciting than the standard "egg whites and oatmeal" meals that most trainees follow.
No, an effective nutrition plan does not need to be bland and boring. With a little bit of creativity and planning, there are plenty of delicious, easy-to-prepare meals that can be incorporated into your plan on a daily basis.
The best part is, this high protein pancakes recipe uses a very simple blend that anyone can prepare in just a few minutes, making it ideal for those who are on the go and have limited time in the morning.
Here's how to make them…

High Protein Pancakes Recipe (Batter Ingredients)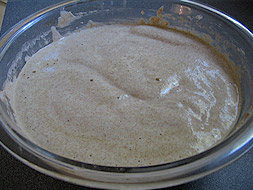 * 1/2 cup egg whites (8.6 ounces)
* 1/3 cup oatmeal (30g)
* 1/2 large banana
* 1 teaspoon cinnamon
* 1 scoop vanilla whey protein powder

Cooking Instructions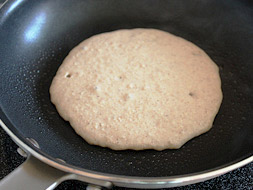 Making the pancakes is very simple and straightforward…
1) Take all the ingredients and mash them up in a large bowl until you've created a thick and smooth consistency.
2) Spray your pan with some non-stick cooking spray and pour the batter in as you would a regular pancake.
3) Let the pancake cook on one side until you see little bubbles forming on top. Flip the pancake over and continue to cook until the middle is done.

Additional Toppings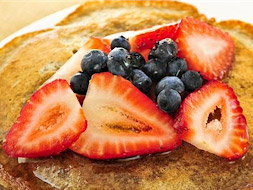 There are a variety of toppings you can add to your protein pancakes, and it really just comes down to your own personal preference.
If you're on a cutting diet then you may want to add fewer toppings to keep the total calorie content lower, whereas if you're on a bulking diet you may want to add more.
Here are some of my favourite things to add…
– Sugar-free or reduced sugar syrup. (For a variety of great sugar-free syrups, I recommend the Walden Farms brand which can be ordered online)
– Sliced strawberries, blueberries and/or bananas.
– Natural nut butter, such as peanut butter or almond butter.
– Flax seeds.
Choose whatever toppings you want based on your preference and calorie needs.

Nutritional Information
This is the nutritional information for the main batter. Of course, if you're adding extra toppings then you'll want to take those into account as well..
Calories: 351
Protein: 45g
Carbohydrates: 36g
Fats: 3g
So there you have it – a simple, easy to make high protein pancakes recipe that works great as a morning meal or even as an evening snack.
This is just one of many awesome bodybuilding and fitness recipes that help you meet your daily nutritional needs while enjoying your food at the same time.
If you found this article helpful, make sure to sign up for your FREE custom fitness plan below...