THE BEST HOMEMADE PROTEIN BARS RECIPE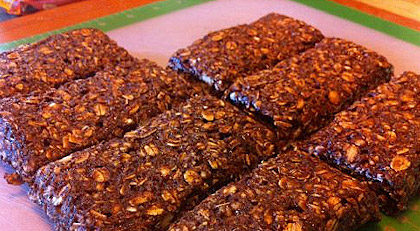 Protein bars are a great way to get in a quick snack of high quality protein, carbohydrates and healthy fats, especially if you're busy and on the go.
Unfortunately, most of the commercial protein bars you find at your local supplement store are far less than ideal. They're packed with low quality sources of protein, tons of simple sugar as well as a long list of additives and preservatives that you probably can't even pronounce.
If you're serious about your fitness program, there's a far better alternative: homemade protein bars.
By making your protein bars at home, you'll be in complete control of the ingredient list, you can tailor the bar to your exact preference, and you'll also pay less on a per-serving basis.
There are a ton of different recipes for homemade protein bars plastered all over the web, but many of them contain excessively long lists of ingredients and require too much time and effort to prepare for a lot of people.
Today, I'm going to give you a quick, very easy to prepare homemade protein bars recipe that only contains a few simple ingredients that you probably already have in your kitchen right now.
It will deliver a well-balanced mix of top quality protein, high fiber/nutrient dense carbohydrates and healthy fats to support your muscle building and fat burning goals while keeping your diet streamlined and convenient.
Here's how to make them…

The Best Homemade Protein Bars Recipe
Ingredients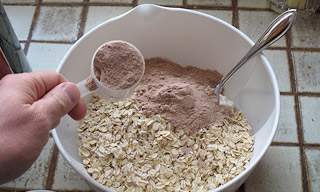 – 2 cups oats (180g)
– 5 tbsp natural peanut butter (80g) (Almond butter also works)
– 1.5 tablespoons cinnamon
– ½ cup skim milk, almond milk or water (Use water if bars will be left unrefrigerated. May require more than ½ cup depending on the thickness of your protein powder)
* 4 scoops chocolate whey protein powder (or flavor of choice)

Directions
1) Toss all of the ingredients into a large bowl and mix thoroughly.
2) Place the mixture into a baking pan. (Use a bit of cooking spray first to prevent them from sticking)
3) Place into the refrigerator for 2-3 hours.
4) Cut into 6 equal pieces.

Nutritional Info (Per Bar)
282 calories
27g Protein
21g Carbs
10g fat
That's all there is to it! As you can see, this homemade protein bars recipe is incredibly easy to prepare, has a great nutritional profile, and as you'll discover soon, also tastes great.
You can enjoy the bars from home when you need a quick snack, or take them on the go with you wherever you need to.
This recipe is not set in stone either. If you want to be play around with it to suit your own preference, go right ahead. Honey, raisins, walnuts and almonds are just a few of the possible "extras" you could toss in for added taste and healthy calories.
If you found this article helpful, make sure to sign up for your FREE custom fitness plan below...