MY FAVORITE WHEY PROTEIN SHAKE RECIPE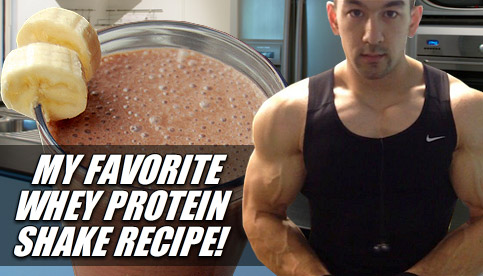 There are a million and one different whey protein shake recipes out there to choose from, but today I wanted to share with you what has always been my #1 "go to" combination over the years.
It's nothing fancy, but I always seem to default back to this recipe because it's easy to make, tastes great (as long as you have a decently flavored protein powder to work with) and provides a well-balanced nutritional profile.
I'm not much of a morning person and always like to get my breakfast in as quickly and easily as possible after getting up, and this shake has helped me do exactly that for about the last 5 years straight.
Here it is…
My Favorite Whey Protein Shake Recipe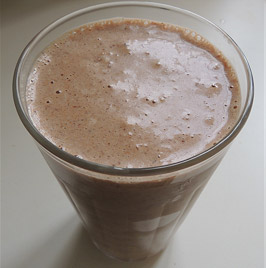 Ingredients
1 scoop whey protein powder (30g)
1 cup unsweetened vanilla almond milk (240ml)
1 medium banana (120g)
1/2 cup oats (40g)
1 tbsp. natural peanut butter (15g)
Pinch of cinnamon
3 ice cubes + water to thin if necessary
A few notes…
Any flavor of protein powder will work here, so just choose your personal favorite. You can find my top 3 recommended whey protein brands here.
Regular dairy milk can be used in place of almond milk if preferred.
If you have trouble blending up the oats, "pre-blend" them on their own in a blender first. They'll turn into a fine powder, and you can then mix them into the actual shake.
Depending on your daily calorie intake and macronutrient needs, you can increase or decrease the quantities of the ingredients to suit your preference.
Nutrition Profile
Here's the exact macro breakdown based on the recipe above…
Calories: 522
Protein: 36g
Carbs: 61g
Fats: 15g
It's a fairly simple shake, but I've never gotten tired of it and it's always helped me hit my daily macronutrient needs in a much more convenient and streamlined way.
Give it a try and see what you think!
If you found this article helpful, make sure to sign up for your FREE custom fitness plan below...