1 LEG EXTENSION FORM TIP FOR BIGGER QUADS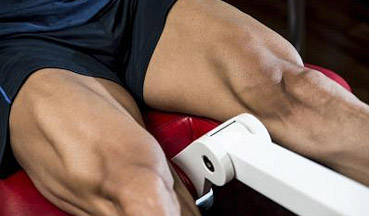 While there's no question that basic compound exercises such as squats, leg presses and lunges should form the cornerstone of your quad training routine, a few sets of leg extensions at the end of your quad workout can definitely be a useful addition in certain situations.
Perhaps you want to include some additional volume for your quads without overly taxing the rest of your body… Maybe you have a lower back injury that you're trying to work around… Or maybe you want to perform some high rep work but find that your cardiovascular system becomes the limiting factor on big compound lifts done in the 12+ rep ranges…
In any case, as long you perform the exercise using moderate weights and strict control, I don't see any problem with including the leg extension as part of your overall quad routine if it feels comfortable for you.
While most people think of the leg extension as being nothing more than a simple matter of extending at the knee, here's one easy tweak you can employ to get an even deeper contraction on each rep for better overall stimulation and bigger quads…
At the top of each rep when your knee is fully extended, try to raise your knees up off the seat as if you were trying to bring your thighs toward your chest.

How does this simple action improve the effectiveness of your leg extensions?
Well, the quadriceps are made up of 4 individual heads: the rectus femoris (middle portion), vastus lateralis (outer portion), vastus medialis (inner portion) and vastus intermedius (also midde portion but sits underneath the rectus femoris).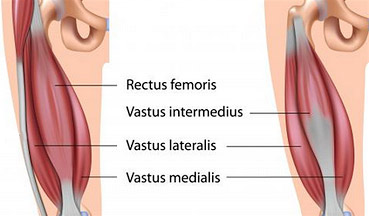 Although all 4 heads insert onto the lower leg and perform the function of extending the knee joint, the rectus femoris originates on the pelvis (unlike the other 3 heads which originate on the femur) and performs the function of hip flexion as well.
You can test this out for yourself in your chair right now as you read this…
First, extend your knee as if you were performing a regular leg extension exercise and note the contraction that you feel.
From there, lift your knee up off the seat toward your upper body. Although your knee will only travel an inch or so upward, you'll immediately notice a deeper contraction in the middle portion of your quad where the rectus femoris sits.
So, by combining these two actions of both knee extension and hip flexion into the exercise, you'll end up getting more well-rounded stimulation of your quads on each rep during your leg extensions.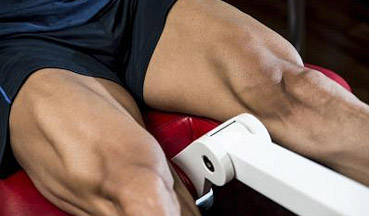 If you're looking for every possible edge when it comes to building bigger quads and maximizing your leg gains, this technique is definitely worth incorporating into your workouts.
If you found this article helpful, make sure to sign up for your FREE custom fitness plan below...